Gillette Fusion Proglide Styler Waterproof Apparaat
Previous Product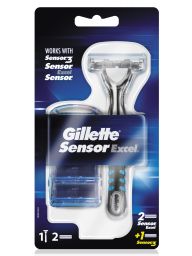 Gillette Sensor Excel Apparaat incl 3 mesjes
Next Product
Gillette Fusion5 scheersysteem incl 4 mesjes>
€34.99
Special Price
€14.90
Incl. Tax
Final tax calculation and product price depends on your destination and this will be shown on the checkout page
This article can be send by:
Mailbox postSharpest price!

Could take a few days more.
Parcel post

Fastest option.
Gillette Fusion ProGlide Styler Set inhoud: - Fusion ProGlide Power Trimmer - 3 Opzetkammen - Fusion ProGlide Power Scheermes (de achterkant is voor precisie trimming) - 1 Batterij Wil je wat flair toevoegen aan de stijl van je gezichtshaar? Kies dan voor de Gillette Fusion ProGlide Styler Set, de 3-in-1 gezichtshaar stijling tool die gelijkmatig trimt, scheert en nauwkeurig accentueert. Wat voor stijl je ook kiest, of het nu een eenvoudige sikje, een smal streepje op de kin, of een gladgeschoren gezicht met scherpe bakkebaarden is, je bent in staat je stijl te beheersen met één enkel precisietoestel, zelfs onder de douche. De Gillette Fusion ProGlide Styler is waterdicht en volledig veilig te gebruiken in natte omgevingen.
What are the Shipping costs:
What is the delivery time?
Are all products in the webshop original?
Yes. We have been buying since 2005 through very reliable suppliers. This allows us to guarantee the quality and originality of the products.
How can I redeem my loyalty points?
Loyalty points are always linked to an account. So if you want to use our loyalty points system, you must first log in to an existing account. We stopped rewarding with points per 30 june 2023. We decided to price as sharp as possible for everyone. Accounts or guest checkout. You can still use valid points. Are you logged in to your account? Then you can redeem the loyalty points on the shopping cart page. You can exchange 1 loyalty point for € 0.05 extra discount on a new order. Read all the terms here
Are you unable to redeem the loyalty points? Please contact our customer service, we are happy to help you through the ordering process.
What should I do if I have forgotten my password?
If you have an account that is registered on our webshop, you can reset the password. After you have entered the correct e-mail address, click on the "reset password" button and you will receive an e-mail with a link to create a new password. It also sometimes happens that this e-mail ends up in the spam or junk mail.
Didn't receive a password reset link by email? Please contact our customer service, we will be happy to assist you.
Do I have to create an account?
No, you can also order without an account on our webshop. To order as a guest, enter only your address, e-mail address and telephone number on the checkout page. You can skip the "create account and choose password" step and you don't need to log in either.
Please note: when you order as a guest you do not automatically save any loyalty points. So you may miss out on a discount.
How can I return my order?
After receiving the product, you have a period of 30 days to return or exchange a product. However, we can (in most cases) only take back products if we receive unopened and undamaged packaging. If you want to return a product, we kindly ask you to contact our customer service by email at
return@shavesavings.com
. We will then register the return and provide you with the correct instructions for the return.
Product Specifications
More Information

| | |
| --- | --- |
| Manufacturer | Gillette |
| Size | 1.00 STUKS |
| EAN | 7702018273423 |